BOOKS
---
---
What to read?
People wishing to get involved in lake monster research should know what has gone before and the list of twenty or so books below will cover most of the major events. Some books are new, but others were written nearly 60 years ago. If you do not wish to buy second-hand copies of some of these books, try to borrow them from a library - they were usually written by people who had spent a lot of time and effort directly researching the subject. This is your source material until you start your own field research. Then it will still be your source material!

Of the books currently in print, some genuinely contribute to our knowledge of the subject, and some appear to struggle! However, I do not think there is any book which is "not worth reading". I only wish the same could be said of the lake monster web sites. In both media some of the authors do "bang on" and promote their favourite theory with disregard for the lack of supporting evidence, others seem so devoid of critical faculties that one wonders how they manage to cross a road safely, while yet others combine flashes of brilliance with total lapses of common sense. Nevertheless, most of them do get it mostly right most of the time, especially the bits they copied from the older books. Read and enjoy!

I have been amazed at the extensive facilities offered by Amazon.com, not only in supplying new books but also in tracking down some of the classics. They have more books than you can shake a stick at, not to mention documentary and other videos, cd's, tapes and records, software, hardware, toys, tools and lots more.
---
---
Books about the Loch Ness Monster

Reviews
I am not going to review these titles, as different readers will benefit from reading different books, but I am happy to mark them with **if I have found them "very useful",*if "interesting", and ~if I have "no opinion" - and this will include books I am not familiar with, or have not yet read.
The find out about availability, prices, reviews and other editions , just click on the blue text and have fun!


The Loch Ness Monster and Others by Rupert T Gould**
Geoffrey Bles, London 1934 and University Books, New York, 1969
also see Enigmas ~ and Oddities~by the same author.


More than a Legend by Constance Whyte **
Hamish Hamilton, London, 1957 (rev 1961)
Loch Ness Monster by Tim Dinsdale **
Routledge & Kegan Paul, London, 1961 SBN 7100 1279 9 see also
Project Water Horse by Tim Dinsdale*




The Great Orm of Loch Ness by F.W. Holiday **
Faber & Faber, London 1968 SBN 571 08473 7


The Dragon and the Disc by F.W.Holiday*
Sidgwick & Jackson, London, 1973 ISBN 0283979151


Serpents of the Sky, Dragons of the Earth by F.W.Holiday~
see also The Goblin Universe~




Loch Ness Story by Nicholas Witchell **
Terence Dalton England 1974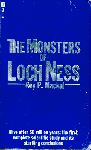 The Monsters of Loch Ness by Roy P. Mackal**
Swallow Press USA and Futura, London 1976 ISBN 0 8600 7381 5


The Enigma of Loch Ness by Henry H Bauer*
University of Illinois 1986, Johnston and Bacon,Stirling, 1991



The Loch Ness Monster - The Evidence by Steuart Campbell **
Aquarian Press 1986 and Aberdeen University Press 1991


Nessie - The Surgeon's Photograph Exposed by David Martin and Alastair Boyd**
Martin and Boyd, England, 1999



The Encyclopedia of the Loch Ness Monster by Paul Harrison ~
Robert Hale, England, 1999
---
Books about other mysterious "creatures"


Out of the Shadows by Tony Healy and Paul Cropper**
Ironbark, Australia, 1994 ISBN 0 330 27499 6




A Living Dinosaur - In Search of Mokele-Mbembe by Roy P. Mackal **
see also Searching for Hidden Animals (0385148976) and the forthcoming...




Where Legends Roam by Lee Murphy, Edited by Roy P Mackal ~



Champ Quest - The Ultimate Search Field Guide & Almanac for Lake Champlain by Dennis Jay Hall ~



In the Domain of the Lake Monsters by John Kirk~
ISBN: 1552630102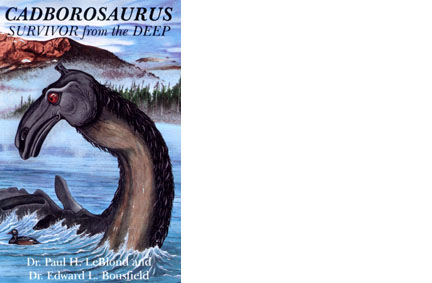 Cadborosaurus, Survivor from the Deep by Paul LeBlond and Ed Blousfield~



Cryptozoology A to Z The Encyclopedia of Loch Monsters,
Sasquatch, Chupacabras, and Other Authentic Mysteries of Nature
by Loren Coleman and Patrick Huyghe. Illustrated by Harry Trumbore~
Avon Books, 1999 ISBN 0-380-80263-5



The Great New England Sea Serpent: An Account of Unknown Creatures Sighted by Many Respectable Persons Between 1638 and the Present Day ~
J. P. O'Neill, J.P. O'Neill

Hydra and Kraken, Or, the Lore and Lure of Lake-Monsters and Sea-Serpents ~
Noel Peattie
Paperback (July 1996)
Regent Pr; ISBN: 0916147991

Water Monsters (Unsolved Mysteries)~
Brian Innes
Reading level: Ages 9-12
Library Binding - 48 pages (September 1998)
Raintree Steck-Vaughn Publishers; ISBN: 081725479X
---
VIDEOS
Just click on the title to find out all the details!

Discovery Channel - Loch Ness Discovered~



Loch Ness Monster, The - Fact Or Fiction?~

---
---

One of our investigators is missing. Last seen at Loch Ness over a year ago, James Jeffrey Paul has now been unmasked as the author of a racy new novel "Harry McCreedy" set in Washington DC. (ISBN 1-93085-904-X) Elderberry Press, Oakland, Oregon. Enjoy!

---