Underwater visibility in Loch Ness
---
One frequently reads reports from Loch Ness referring to the peaty water or murky depths and these stories are somewhat misleading. The water is certainly peat-stained but this leads some to assume you cannot see very far. When scuba diving in the loch I found I could work reasonably easily down to 15 metres or 50 feet, and had to go to around 20 metres or 70 feet before losing all light from the surface. This page is intended to show the real conditions in short video clips.
First, a view of waves breaking on the beach. The stones underwater are perfectly visible but a slight brown colouration can be seen.
Copyright Dick Raynor 2012
Next , a daylight scene in about 4 metres of water using ambient light. Horizontal visibility is perhaps 8 metres.
Camera: AdvancedVison 3.6mm
Below is a recent experimental clip looking downwards at leaves and twigs at a depth of 6 metres in ambient light, in January 2012.
Next is looking upwards from a depth of 12 metres at the hull of the Castle Cruises 9.5 metre tour boat. There is a tree branch floating near the boat, and a swan in the lower left of the frame. Recorded January 2012. After a few seconds the camera changes from mono to colour mode.
And finally for now a short clip using artificial lighting at a depth of 70 metres near Urquhart Castle, recorded in 2001 using an AdvancedVision 3.6mm mono camera.
Latest clip is a 10 second sequence of a small salmonid fish swimming along at a depth of about 40 metres / 150 feet, recorded on 17th January 2012 illuminated with a home built 3-led cluster.
My preliminary assessment is that the video quality is lower than that of a few days ago using ambient light and I suspect that the extra current drawn by the leds has lowered the voltage available at the camera to a level where performance is affected. I will now upgrade the power supply and try again.
Results of further tests using a variety of light sources will be uploaded here in the near future. DR, January 2012.
---
The Multicam
This unit carries two separate tv cameras, one module is contained inside the lower yellow housing and looks forwards, while the other module look vertically upwards. Below is a short clip showing the view from the upwards looking camera from the surface down to about 12 metres, recorded on the first test dive on 7th February 2012.
And below is another clip from ~ 12 metres to the surface. I am experimenting with colour cameras which work normally in bright light, then change to black and white mode in lower light, and finally reduce their frame rate in almost total darkness, emulating a "time exposure", so that they only output one new frame every couple of seconds. This video starts with the camera lying on the bottom of Loch Ness at about 40 feet depth. It was lying on its side, but using the VirtualDub software I have rotated that segment 90 degrees, and appended it to the "upright" sequence after I lifted it off the bottom. The boat visible is the 31 ft Castle Cruises tour boat which is based in Drumnadrochit and owned by Mr Gordon Menzies, to whom I am extremely grateful for his support over many years.
A Mobi DVR digital video recorder has now been added to the system to record the second video channel while the first is being recorded on the Sony TRV 900. Below are two clips recorded in less than ideal conditions on 17th February 2012. The first is from the forward looking camera, recorded in Castle Bay near Urquhart Castle and showing the complete lack of vegetation...
and the second clip is from the Mobi DVR which can record nearly 6 hours of 640 x 480 VGA video on a 16GB SDHC card. It also shows the operator , Dick Raynor, using Olympus EyeTrek equipment to view the video stream while manipulating the camera gear.
Below is a view of the underwater television equipment arranged on the Castle Cruises tour boat "Morag mo Chridhe". A detailed description is omitted in the interest of clarity.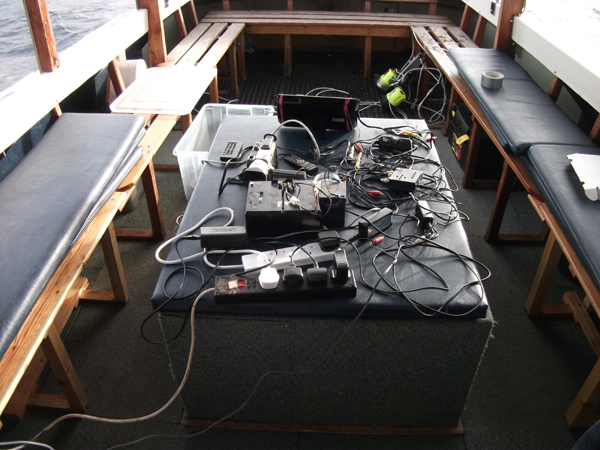 All material copyright Dick Raynor 2012.